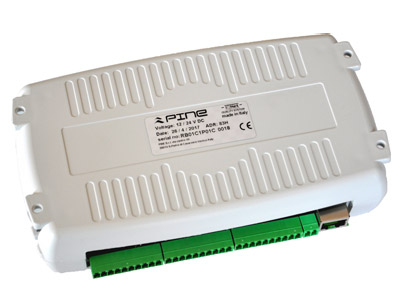 An important feature that differentiates RB01C1 from other similar products is the measurements of the current in the common contact of the relays allowing control of the loads cennected to the output.
Features
8 digital inputs with optical insulation
5 analogue inputs
2 inputs for frequency measurement
5 output relays with Common, NO and NC contacts (SPDT)
Measurement of the current in the Common contact of the relays
2 low power analogue outputs
Galvanically isolated RS485 serial communication line
Galvanically isolated CANBUS serial communication line
Power supply: 12/24 VDC (from 10 to 35V) and from 8 a 24 VAC 50/60 Hz
DIN rail version (DIN EN 50022) or grey ABS box
RB01C1 inputs and outputs are managed by the serial communication lines using the MODBUS RTU protocol over RS485 and by a proprietary open protocol (similar to MODBUS RTU) over CANBUS.
It is possible to use only one of the two serial lines or both. The serial lines are galvanically isolated by power supply and galvanically isolated one by the other.