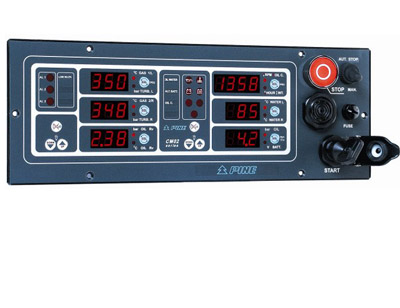 CM02 is a fully programmable digital control panel suitable for mid-power and high power engines.
A polycarbonate front mounted on an aluminum support protects control and visualization parts.
Two independent electronic control units assure reliability and safety giving at the same time modularity to the product.
User can adjust pre-alarm and alarm thresholds for each reading.
Standard Features
Readings
– RPM
– Working hours
– 8 analog readings
– Maintenance / Oil change timer management
– One or two exhaust gas temperatures
Ten warning lamps for signallings and alarms
Variable brightness intensity
On request
Automatic stop
Acoustic alarm remote repeating
Remote alarm/signalling acknowledgment input
Pre-heating management related to the engine water temperature
Two or more panels connected together for a control Multi-Station
The monitoring unit can be supplied apart.
Painted metal enclosure box, fixed by four anti-vibration supports.
CM02
Power supply
Universal 12/24 Vcc (from 10 up to 30 V)
Power consumption
< 10 W
Protections
Polarity inversion
Battery disconnecting extravoltage (not repeatitive)
Working temperature
-10 / +60 °C
Storage temperature
-30 / +80 °C
Visualization
3+3 rows display and variable luminous intensity
Acoustic notification
Buzzer 5 – 30 Vcc
Inputs
8 analog and 6 digital
Outputs (on request)
Automatic engine stop
Preheating
Engine revolution
Alternator "W" contact or magnetic pick-up
Analog readings
Veglia, VDO, 4-20 mA and other on request
Size (mm)
388 x 136 x 100