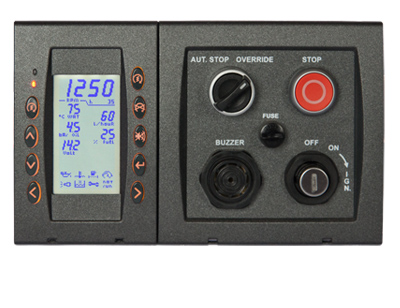 Available colors 


Anthracite Grey               White
Fully programmable digital control panel suitable for low-power and mid-power engines.
Visualized readings and alarms management are fully customizable.
It reads signals from analogue transducers, ON/OFF contacts, CANBUS and RS485 serial buses.
CM60 can perform the automatic engine start and stop, therefore can be used on gen-sets.
The monochromatic display is readable in every environmental condition, even in full sunlight.
CM60 records all the significant events, similar to a "black box".
Standard Features
High contrast monochromatic LCD sun light readable
6+6 analogue readings displayed
8+8 icons/warning-lights for alarms/safeties/faults signallings
Two text rows dedicated to messages display
Manual adjustment of brightness and contrast
5 output relays with selectable function
Automatic stop
Acoustic alarm remote repeating
Remote alarm/signalling acknowledgment input
Pre-heating management related to the engine water temperature
Two or more panels connected together for a control Multi-Station
On request
Painted metal enclosure box, fixed by four anti-vibration supports.
CM62
Power supply
Universal 12/24 Vcc (from 10 up to 30 V)
Power consumption
Less than 7 Watt (tachometer consumption not included)
Protections
Polarity inversion
Battery disconnecting extra voltage (not repetitive)
Working temperature
-20 / +60 °C
Storage temperature
-30 / +80 °C
Visualization
Transflective Backlit LCD display 128 x 64 dots
Acoustic notification
Buzzer 5 – 30 Vcc
Inputs
5 ANALOG – 8 DIGITAL
Serial lines
CANBUS and RS485
Outputs
System ready
5 Relays
Buzzer
Alternator excitation
Tachometer power supply
Tachometer backlighting
Engine revolution
Alternator "W" contact
Magnetic pick-up
Reading from CANBUS (J1939) or customized messages
Analog readings
All the common transducers and 4-20 mA
Size (mm)
222 x 135