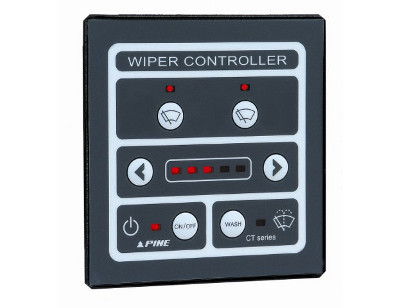 CT2N2 is a microcontroller-based wiper control system for 2 wiper motors.
CT2N2 is composed of one control panel CP4P2 and one relay box SRM2P.
Control panel is connected to relay box by one serial cable (CANBUS cable) with two 8 pole plugs. Every unit has two plugs (in parallel) and any one or both can be used.
Each wiper can be switched on one by one.
Features
three intermittent speeds (four in case of single speed motor)
one or two continuous speeds
synchronized brushes at any mode
motor brake
washing program
an additive control panel CP4P2 can be added to work from different stations
CT2N2
Alimentazione
10V to 30V DC
Fusibile interno
12A PTC
Corrente in Stand-by
< 70 mA a 10V
< 40 mA a 30V
Protezione
Inversione di polarità
Motore – corrente in uscita
Singola/Doppia velocità – 12 A max.
Inputs
2 sensori di parcheggio (aperto in posizione di parcheggio)
Outputs
2 slow speed
2 high speed (con motori a 2 velocità)
1 pompa (positive pole)
Funzioni
3 or 4 livelli di intermittenza
1 or 2 velocità in modalità continua
Ciclo di lavaggio automatico
Connessioni
Relay box SRM2P
2x connettori 4 poli
2x faston 9,5 mm maschio
1x faston 6,3 mm maschio
2x connettori 8 poli
RJ45 (canbus network)

Pannello CP4P2
2x connettori 8 poli RJ45 (canbus network)
Case
Relay box: ABS grigio
Pannello CP4P2: Case in metallo
Protezione frontale IP65 IP65
Temperatura di lavoro
-25 °C / +50 °C
Temperatura di stoccaggio
-30 °C / +80 °C