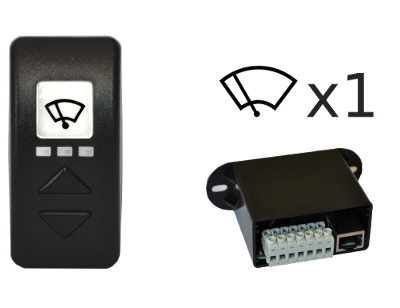 Control system for one wiper suited for high power motor. This system consists of the control switch and a relay box.
It replaces up to two standard switches and it's suited for motor provided with parking switch. It works either with single speed motor and with double speed motor.
Three buttons in the switch allow to manage all the functions needed for windscreen cleaning: ON/OFF, timing and washing program.
It is user friendly and it can be easily installed in few minutes, no screws are needed.
Features
3 intermittent speed
one or two continuous speed
motor brake
washing program
dimmer input
Plug-in connector
Fast-on contacts for motor connections
CT41P
Power supply
10V to 30V DC
Internal fuses
12 A PTC
Stand-by current
Less than 20 mA
Protections
Polarity inversion
Motors- output currents
Single or double speed – 12 Amps max.
Inputs
1 parking switch (open in park position)
Dimmer (connect to + supply if not used)
Outputs
1 slow speed – SLOW
1 high speed – FAST (if 2 speed motors)
1 wash pump (positive pole)
Functions
3 intermittent settings
2 continuous speeds, slow and high speed
Wash / wipe program
Connections
Relay box
1x 7 poles Conn.
1x 8 poles connectors RJ45 (can bus network)

Switch
1x 4 poles Minifit Conn.
1x 8 poles connectors RJ45 (can bus network).
Case
ABS black
Working temperature
-25 °C / +55 °C
Storage temperature
-30 °C / +80 °C